Stock Tracking Software from Stock Research Pro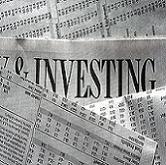 Stock Research Pro offers stock tracking software built into the Stock Research Pro flagship software product. The stock tracking capabilities in our software enable the user to track the stock price, price change, and volume from any screen within the application. Click on any of the stocks you're tracking to launch right into research and updates about the stock. Track up to twelve stocks for current news, ratings, moving averages, valuation, and more.
The Stock Research Pro Software
The Stock Research Pro software provides both new and seasoned stock investors with an all-encompassing environment for stock tracking, research, basic technical, fundamental analysis and valuation of stocks. Users of the software move from left to right across the application through the following sections:
Ideas: The Ideas section of the software helps the user through the process of finding potential stock investment candidates. The software offers pre-set stock screens and guidance in setting up customized screens to filter for stock candidates. The Ideas section also guides the user through expert investment picks.
Research: The Research Section of the software guides the user through the wealth of information available from quotes, charts, news, forums, and rating resources to a conduct thorough investigation of the company under consideration and eliminate those that raise cause for concern.
Analyze: In the Analysis section, the user conducts basic technical analysis through a review of moving price averages and fundamental analysis through the use of multiple stock valuation calculators.
Execute: The Execute section connects the user to the Stock Research Pro Virtual Stock Trading Platform; providing the opportunity to test out their investment strategies before actually risking any money.
Stock Research Pro Stock Tracking Software
From each view within the software, the user is able to select and track stocks of interest. The software offers the user a level of control regarding the frequency of quote updates and provides overall updates for both the Dow Jones Industrial Index (DJIA) and the NASDAQ.
________________________________________________________________
The above information is educational and should not be interpreted as financial advice. For advice that is specific to your circumstances, you should consult a financial or tax advisor.
« Calculate and Interpret the Operating Cash Flow Ratio | Home | How and When to Use a Trailing Stop Order »